Breakthrough Heat-to-Electricity Engines, Revolutionary Savings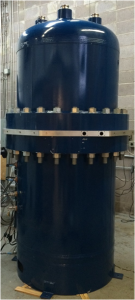 [three_fourth]
Cool Energy supplies a breakthrough power conversion product called the ThermoHeart Engine™. These engines can be used to convert heat between 150 degrees Celsius and 400 degrees Celsius into clean electricity in waste heat applications such as industrial exhaust, stationary power generation,  and some pollution control equipment. Producing up to 25 kilowatts of clean electricity, the ThermoHeart Engines are quiet, low-maintenance, and extremely efficient. In initial performance testing, a 300 Celsius temperature difference produced over 30% conversion efficiency! No other product or technology has demonstrated such a high performance under similar conditions.
(Pictured Upper Right) Watch Cool Energy CEO Sam Weaver accept the 2016 Colorado Impact Days Energy Award.
In addition, renewable electricity production such as biomass power and solar thermal power can use the ThermoHeart Engines as the conversion core of their systems. Based around the 200-year-old concept of a Stirling cycle, the ThermoHeart Engine brings modern techniques to bear: advanced computer optimization, self-lubricating seals, high-surface-area heat exchangers, sealed bearings, and a novel engine architecture. With a highly-capable contract manufacturing partner, commercial shipments begin in 2016. We can customize a heat recovery system to any customer needs in which hot liquids or gases up to 700C can be used to generate on-site electricity. Contact us to see how we can work in your application!
Our Story / Cool Energy Snapshot
For more information or subscribe to our newsletter  please Contact Us.