Cool Energy Media Kit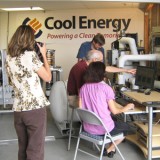 Dear Member of the Media,
Thank you for your interest in Cool Energy and our waste heat recovery technology for producing electricity. Below you'll find a number of downloadable items to assist you with your story. Please let me know how we can be of help, and if you would like to speak with Sam Weaver, CEO and President of Cool Energy.
Media Contact
Neshama Abraham
Neshama@abrahampaiss.com
303.413.8066
• Press Releases     • Photo Gallery
Downloadable Media Kit