Careers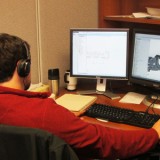 We do not have any job openings at this time.
---
Benefits include a collaborative work environment in the clean technology field with room for professional advancement, excellent medical and vision plans, an incentive stock option program, a continuing education benefit, 5 weeks annual paid time off, and flexible working hours.  After a successful contracting period, this position is intended to be salaried, and candidates are expected to work in a start-up environment in which a broad range of responsibilities are shared among employees.
About Cool Energy

The team of clean energy technologists at Cool Energy's facility in Boulder, Colorado is committed to developing systems that use renewable energy sources to provide abundant, inexpensive, carbon-free power production. Our employees and our novel patent-pending approaches to energy production are the keys to creating systems that will serve the energy needs of ours and many future generations.

Cool Energy strives to provide an enjoyable and healthy work environment for its employees. We believe that excellent employee benefits should be part of the reward to people who share our vision and are willing to work hard to realize the goal of delivering high-quality, sustainable products to the market.

Our mission involves the well-being of our customers, employees, and the global environment. Cool Energy is committed to business practices that enable the best outcomes for all three entities.